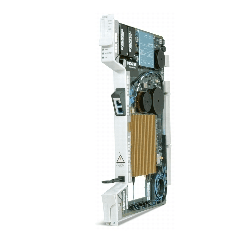 Cisco ONS 15454 OC-192 Intermediate-Reach STM-64 SH Optics Card
The Cisco® ONS 15454 SONET/SDH Multiservice Provisioning Platform (MSPP) supports a comprehensive suite of OC-192/STM-64 interface cards, allowing users to build cost-effective networks by matching the appropriate interface to the requirements of the network application.
Background
The need for 10 Gbps in the metropolitan-area network (MAN or metro) environment is driven by the transport network's requirement for bandwidth that is larger than any single constituent signal from the edge, as well as the need to efficiently aggregate lower-speed services. 2.5-Gbps interfaces are becoming more common on edge switches, routers, and other transport platforms, and Gigabit Ethernet at the network edge is increasing in popularity. As a result, scaling the metro network to 10 Gbps is of increased interest to service providers that want to eliminate a service bottleneck through the metro.
Metro networks must scale in bandwidth to meet larger service demands (OC-12/STM-4 and OC-48/STM-16) while still efficiently supporting lower-rate services (such as DS-1/E1, DS-3/E3, and 10/100BASE-T). A metro transport platform incorporating 10-Gbps interfaces enables service providers to cost-effectively access increased revenue streams by being able to efficiently deliver the deployed, familiar, lower-rate services as well as the premium, higher-rate, Gigabit Ethernet and 2.5-Gbps services.