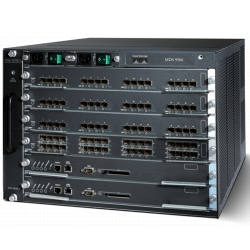 Get an Intelligent SAN for Small Environments
Deploy a flexible, intelligent SAN for your virtualized data center with the Cisco MDS 9506 Multilayer Director. This director-class SAN switch is designed for small, mission-critical environments, and helps you meet server virtualization challenges such as:
Increased need for servers to access data on the network
Higher bandwidth density per server
Different security profiles for multitenancy, cloud computing, and heterogeneous environments
Loss of insight into individual applications for the SAN administration team
The Cisco MDS 9506 Multilayer Director helps you meet these challenges with:
Convergence
Scale
Intelligence
Feature and Capabilities
Scalable expansion with outstanding investment protection
Multiprotocol architecture and convergence with multihop Fibre Channel over Ethernet (FCoE)
Business transformation with Enterprise Cloud Deployment
Platform for intelligent storage applications
Enterprise-class availability
Converge Networks to Simplify SAN Connectivity
Using the Cisco MDS 9506 Multilayer Director, you can easily connect a Cisco MDS-based SAN infrastructure to large converged networks with multihop FCoE. In addition, the operating system and management interface are the same as for all other Cisco data center switches.

Easily Scale Your SAN
This SAN switch lets you consolidate highly virtualized servers and high-end storage in a SAN, with up to 192 Fibre Channel ports of 1, 2, 4, and 8 Gbps in one chassis.

Deploy Intelligent Storage Services
The Cisco MDS 9506 Multilayer Director offers intelligence for heterogeneous environments with:
Fibre Channel or Fibre Channel over IP SAN extension and I/O acceleration
Cisco Storage Media Encryption
Cisco Data Mobility Manager
Third-party application for continuous data protection
Cisco Data Center Network Manager offers end-to-end virtual-machine-aware path analytics and trending, to help you simplify management of your data center virtual infrastructure.
Specifications at a Glance
Software compatibility
Cisco MDS SAN-OS Software Release 3.0(1) or later
Performance and scalability

Supported Fibre Channel port speeds
1/2/4/8 Gbps autosensing
1/2/4 Gbps autosensing
10 Gbps fixed rate
Supported FCoE port speeds
10 Gbps fixed rate
Supported Ethernet port speeds
1 Gbps fixed rate
32- and 48-port 8 Gbps Advanced Fibre Channel modules buffer credits:

32 per port (shared-mode ports)
Up to 500 per port (dedicated-mode ports) standard
Up to 4095 on an individual port (dedicated-mode ports with optional Cisco MDS 9000 Enterprise Package license activated)

Advanced functionality

VSAN
Inter-VSAN Routing
PortChannel with Multipath Load Balancing
Flow-based, zone-based Quality of Service (QoS)
N_Port ID Virtualization

Reliability and availability

Online, nondisruptive software upgrades
Stateful, nondisruptive supervisor module failover
Hot-swappable redundant supervisor modules
Hot-swappable 1+1 redundant power
Hot-swappable fan tray with integrated temperature and power management
Hot-swappable Small Form-Factor Pluggable (SFP) optics
Hot swappable Enhanced Small Form-Factor Pluggable (SFP+) optics
Hot-swappable small pluggable (X2) optics (10-Gbps)
Hot swappable switching modules
Stateful process restart
Any-module, any-port configuration for PortChannels
Fabric-based multipathing
Per-VSAN fabric services
Online diagnostics
Port tracking
Virtual Routing Redundancy Protocol (VRRP) for management
Featured Content
Reliable, Scalable SAN Platform
Cisco MDS 9000 NX-OS Software Release 5.2 runs on Cisco MDS 9000 Switches.
Create an Ideal SAN
Gain intelligent, multilayer services that help fulfill your business needs.