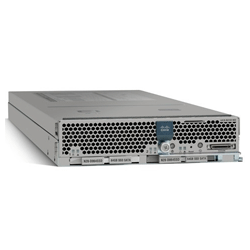 The Cisco UCS B230 M2 Blade Server extends the capabilities of the Cisco Unified Computing System and delivers new levels of performance, efficiency, and reliability. With the Intel® Xeon® processor E7-2800 product family, the 2-socket Cisco UCS B230 M2 Blade Server platform delivers high performance and density in a compact, half-width form factor.
Obtain Adaptability and Advanced Reliability
The B230 M2 offers:
Intel® Xeon&® processor E7-2800 product family
Enhanced memory capacity and bandwidth to support your virtualized environment
Advanced reliability features for mission-critical workloads
In addition, the B230 M2 provides one dual-port mezzanine card for up to 20 Gbps I/O per blade. Options include a Cisco UCS M81KR Virtual Interface Card or converged network adapter (Emulex or QLogic compatible). Other features include:
32 dual in-line memory module (DIMM) slots
Up to 512GB memory at 1066 MHz, based on Samsung 40-nanometer class (DDR3) technology
Two optional front-accessible, hot-swappable solid-state drives (SSDs) and an LSI SAS2108 RAID Controller
Simplified deployment and systems management, embedded integration into Cisco UCS Manager
Each Cisco UCS 5108 Blade Server Chassis can house up to eight B230 M2 servers, for a maximum of 160 per Cisco Unified Computing System.
UCS Server Sets World Record
Cisco Unified Computing System B230 M2 Server gets top performance scores.