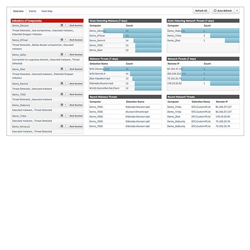 Protect endpoints, whether connected to a protected network or roaming on the Internet, with continuous and integrated detection, response, and remediation capabilities. Cisco Advanced Malware Protection (AMP) for Endpoints provides advanced malware protection for PCs, Macs, mobile devices, and virtual environments.
Features and Capabilities
AMP for Endpoints is the only product today that goes beyond point-time-detection to provide the visibility and control you need to stop advanced threats missed by other security layers. AMP for Endpoints is an intelligent, enterprise-class, advanced malware analysis and protection product. It uses a telemetry model to take full advantage of big data, continuous analysis, and advanced analytics.
With AMP for Endpoints you can detect, track, analyze, control, and block advanced malware outbreaks across endpoints, virtual systems, and mobile devices.
AMP for Endpoints Answers These Key Questions Before, During, and After an Attack:
What was the method and point of entry?
What systems were affected?
What did the threat do?
Can I stop the threat and root cause?
How do we recover from it and prevent it from happening again?
Before: AMP for Endpoints malware detection and blocking stops known attacks.
During: A lattice of detection capabilities combined with big data analytics and continuous analysis determines if advanced, unknown malware is on your network. Sophisticated machine learning techniques evaluate more than 400 characteristics associated with each file to analyze and block advanced malware.
The combination gives you detection capabilities that go beyond traditional point-in-time detection, allowing AMP for Endpoints to also retrospectively detect files that become malicious after the initial point of entry.
After: Inevitably, some advanced malware can evade your first lines of defense. Visualizing and pinpointing malware intrusions and indications of compromise help speed response times. Automated remediation mitigates damage. With a detailed understanding of malware behavior, you can prevent similar future attacks and eliminate the risk of reinfection.
Benefits
Continuous detection and monitoring of malware, immediately and retrospectively
Complete visibility and control to track, analyze, and stop malware
Protection extends across PCs, Macs, mobile devices, and virtual environments
Integration with Cisco AMP for Networks
On-premise, private cloud option for organizations with high-privacy requirements