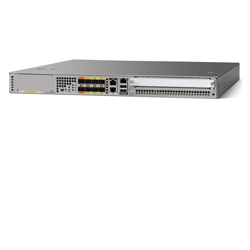 The Cisco ASR 1001-X Router is a 1-rack-unit (1RU) platform targeted towards the low to medium Enterprise and Managed Service Provider use cases. Its compact form factor has a built-in Route Processor, Embedded Services Processor (ESP) and Shared Port Adapter (SIP) Interface processor.
Features and Capabilities
Running Cisco IOS XE Software, the Cisco ASR 1001-X shares a common operating system, feature set, and management and troubleshooting tools with the rest of Cisco ASR 1000 family.
Investment Protection
Pay-as-you-grow forwarding thoughput is upgradable from 2.5 to 5,10, and 20 Gbps
Built-in 2 X 10 GE accelerates 1 GE to 10 GE transition without additional hardware
Expanded container app support is included for future virtual applications and services
The compact 1RU form factor increases rack space and reduces power and cooling costs
High-Performance Security
The ASR 1001-X Router includes:
High-performance security for crypto, firewall, and Network Address Translation (NAT) sessions
Robust deep packet inspection performance at high throughputs for Cisco Application, Visibility, and Control