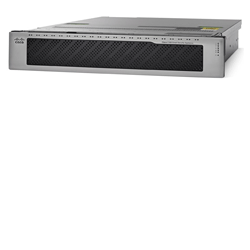 Preventive filters and signature-based reactive filters, combined with content filtering and Cisco partner technology, provide high levels of email security with innovative visibility, scalability, and management tools.
Features and Capabilities
What's Inside
The email perimeter is under attack from many message-borne threats. Maintaining a high number of concurrent Simple Mail Transfer Protocol (SMTP) connections is fundamental to preventing denial-of-service attacks from affecting your system availability.
At the foundation of the C680 is the Cisco AsyncOS operating system. This OS supports up to 10,000 simultaneous connections per system, or 100 times more than traditional systems. And 64-bit processing magnifies the capabilities of system hardware for mail applications.
In addition, the C680 takes full advantage of our market-leading Cisco Unified Computing System (UCS) platform, providing a robust foundation for superior reliability and simplified deployment.
Management Tools
Centralized Management
Email Security Manager
Simple Network Management Protocol (SNMP) Enterprise MIB
Intuitive GUI
Spam Defense
Cisco Reputation Filters for the web
Cisco Anti-Spam
Virus Defense
Cisco Outbreak Filters
Sophos Anti-Virus
McAfee Antivirus
Policy Enforcement
Content filters
Data Loss Prevention
Cisco Email Encryption
Email Authentication
DomainKeys Identified Mail (DKIM) and DomainKeys signing
Bounce Verification