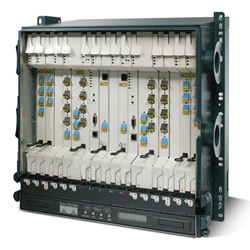 The ONS 15454 M12 MSTP features a compact 11-rack-unit chassis offering 17 slots. It accommodates the deployment of multi-degree, multi-wavelength, dense wavelength division multiplexing (DWDM) systems in a convenient quarter-rack system.
Features and Capabilities
Commonality with the Cisco ONS 15454 Multiservice Provisioning Platform (MSPP) allows the deployment of hybrid SONET and DWDM configurations. This eases migration from time division multiplexing (TDM) to networks based primarily upon IP services transported over DWDM wavelengths.
Built for service providers and enterprises alike, the Cisco ONS 15454 M12 MSTP features:
12 service slots which can hold any combination of Reconfigurable Optical Add/Drop Multiplexers (ROADMs), amplifiers, and DWDM service cards, for flexible node configurations
Five slots for common equipment, including the Optical Service Channel (OSC) and redundant system processors
A hot-swappable fan tray, integrated LCD display, and fully redundant DC power inputs
Multi-shelf management for expansion of a single network element into multiple shelves
Full compatibility with the ONS 15454 M6 chassis in multi-shelf configurations
Specifications at a Glance
Product IDs
15454-SA-HD=, 15454-SA-HD-DDR3=, 15454E-SA-ETSI=
Slots
17
Service slots
12
Power
-48 VDC
Physical Dimensions: M12 ANSI shelf assembly
Rack mounting
Size (H x W x D)
19- or 23-in. (483- or 584-mm) EIA rack-mounting
18.5 x 17.6 x 12.0 in. (469.9 x 447.04 x 304.8 mm)
Physical Dimensions: M12 ETSI shelf assembly
Rack mounting
Size (H x W x D)
23-in. (600 mm) or 19-in. (483-mm) rack-mounting1
24.3 x 17.5 x 11.02 in. (616.5 x 445 x 280 mm)