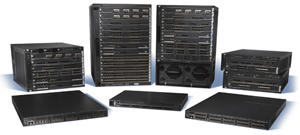 Reduce Costs and Increase Availability
Cisco MDS 9000 Series Multilayer SAN Switches can help lower the total cost of ownership (TCO) of storage environments. By combining robust, flexible hardware architecture with multiple layers of network and storage-management intelligence, the Cisco MDS 9000 Series helps you build highly available, scalable storage networks with advanced security and unified management.
For a list of tested and validated storage area network components and configurations, please see the Cisco MDS 9000 Family Interoperability Support Matrix.
And check out the new and improved Cisco Storage Networking Page.
Cisco MDS 9000 Family Hardware
Cisco MDS 9700 Series Multilayer Directors
Cisco MDS 9500 Series Multilayer Directors
Cisco MDS 9200 Series Multiservice Switches
Cisco MDS 9100 Series Multilayer Fabric Switches
Cisco MDS 9000 Family Software
Cisco NX-OS Software for MDS 9000
Services-Oriented SANs
Cisco I/O Accelerator
Cisco Data Mobility Manager
Cisco XRC Acceleration
Cisco Prime Data Center Network Manager
Features and Capabilities
Ready-to-adapt, to accommodate future physical, virtual, and cloud environments
Fully redundant components and fault-tolerant design
State-of-the-art multiprotocol and multiservice convergence
High-performance SAN extension