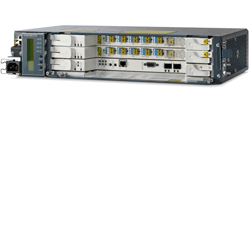 The Cisco ONS 15454 M2 Multiservice Transport Platforms is an exceptionally compact, simple, fast, and intelligent dense wavelength-division multiplexing (DWDM) solution that:
Offers integrated features and lower power consumption to reduce capital and operational expenditures
Can use the existing portfolio of ONS 15454 MSTP line cards to provide numerous MSTP applications in a smaller footprint
New control cards for the Cisco ONS 15454 M2 Multiservice Transport Platform consolidate several functions into just one card. The flexibility of the platform also:
Can be configured with either single or redundant DC or AC power modules
Has front-facing connections
Can be mounted in 19-, 21-, or 23-inch racks or cabinets using brackets with integrated air deflectors
Offers a high-capacity fan tray assembly
Provides an LCD display with a built-in memory device
Cisco ONS 15454 M2
The ONS 15454 M2 chassis has one slot for the control card and two slots for service cards.
The service-card slots provide increased power and cooling over the original 15454 chassis and a usable high-speed backplane for future applications.