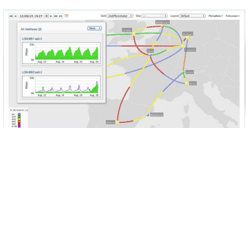 Gain Network Analytics for Live and Historical Data
Cisco MATE Live software rapidly delivers in-depth network analytics with efficient navigation for both real-time and historical data for critical business and technical decisions. The solution allows network operations teams to quickly pinpoint and troubleshoot network issues and provides measurement, trending, and health monitoring capabilities to maintain high-performance networks.
Features and Capabilities
With so many services that depend on the backbone infrastructure, service providers must quickly and proactively identify and analyze network issues. As new services are rolled out, providers need to forecast the effects on the network.
Cisco MATE Live offers a comprehensive, easily navigable network analytics and dynamic visualization solution for making timely, informed technical and business decisions. Based on service providers requirements for visibility, automation, and best practices, this software helps service providers to:
Instantly analyze network health and traffic trends spanning hours to years
Create easy-to-understand and detailed user-configurable reports and graphs
Explore operational attributes of physical and logical interfaces, link state packets, and nodes, and view demand information
Identify suboptimal use of physical and logical link aggregate groups (LAGs) and define thresholds to monitor
With Cisco MATE Live, service providers can also:
Keep network states confidential by establishing user credentials and roles
Visualize multivendor networks with a near-real-time weather map
Collect and correlate decades of network data for carrier-class scale with no performance degradation
Easily deploy it, reducing maintenance costs
Related Products
Cisco MATE Design
Cisco MATE Collector