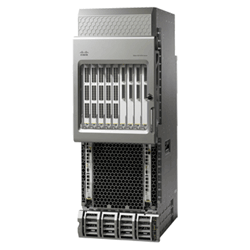 Built to Meet High Data Demand
The Cisco ASR 9912 Router complements Cisco ASR 9000 Series routers by offering superior capacity in an efficient form factor. It takes advantage of the innovations introduced by the Cisco ASR 9922 Router. The ASR 9912 model is built with a comprehensive backplane, which provides the longevity needed to accommodate the high data demand of networks today.
Features and Capabilities
The Cisco ASR 9912 Router supports 10 line-card slots, with each slot capable of switching up to 2 Tbps of bi-directional traffic. In its first phase, the system will support 4+1 fabric cards allowing 550 Gbps of non-redundant (440 Gbps redundant) switching capacity. Powered with Cisco IOS XR Software Release 4.3.2, the ASR 9912 has all the functionality available to the entire ASR 9000 series of chassis.
The ASR 9912 borrows architectural elements from ASR 9922 system, including:
2 route processors
6+1 Fabric Cards (N+1 redundancy)
A modular power design
Specifications at a Glance
Features
Description
Slots
10 slot chassis
Rack Size
30 RU
Power
3 power shelves, 12 power modules
25.2 KW DC / 36 KW AC available
2.1 KW DC / 3.0 KW AC supplies
N+N AC supply redundancy
Fan
Two fan trays
Front to back airflow
RP
1+1 RP redundancy. Same RP as ASR 9922
Fabric
6+1 fabric redundancy.
Bandwidth
Phase 1: 770 Gb per slot
Capacity: 2+ Tb per slot
SW
Cisco IOS XR 4.3.2