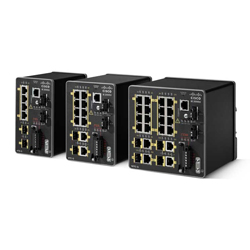 The Cisco Industrial Ethernet (IE) 2000U Series Switch is a rugged, compact, DIN-rail-mountable switch optimized for use in transmission and distribution power substations and distribution generation facilities like wind and solar farms.
Features and Capabilities
Cisco Industrial Ethernet 2000U (IE 2000U) Series Switches work in the harsh environments common in transmission and distribution substations, including small cabinets in space-constrained locations such as pole tops. The Cisco IE 2000U uses Cisco IOS Software, the operating system that powers millions of Cisco switches worldwide.
Primary features include:
Rugged industrial design and substation compliance (meets IEC 61850-3 and IEEE 1613 standards for utility substation environments)
Advanced capabilities to support mission-critical substation applications such as supervisory control and data acquisition (SCADA) and IEC 61850 Generic Object-Oriented Substation Events (GOOSE) messaging
Support for Precision Timing Protocol (PTP) applications based on IEEE 1588 v2 standards
Cisco IE 2000U Series Switches provide:
Hitless failover protocol support based on the IEC 62439-3 standard (the Parallel Redundancy Protocol and High-Availability Seamless Redundancy)
Support for the Resilient Ethernet Protocol (REP) and Flex Links for fast reconvergence in ring and hub-and-spoke topologies
SmartPort templates for one-touch global and port-level macros to simplify switch deployments
Use the rugged Cisco IE 2000U switches along with the CGS 2520 Connected Grid Switches and the Cisco 2000 Series Connected Grid Router
Specifications at a Glance
Seven models are offered for added flexibility. They are:
Cisco IE-2000U-4TS-G: 4 Fast Ethernet downlinks and 2 Gigabit Ethernet (GE) uplink ports
Cisco IE-2000U-4T-G: 4 Fast Ethernet downlinks and 2 GE fiber uplink ports
Cisco IE-2000U-4S-G: 4 Fast Ethernet downlinks and 2 GE uplink ports
Cisco IE-2000U-8TC-G: 8 Fast Ethernet downlinks and 2 GE combo uplink ports
Cisco IE-2000U-16TC-G: 16 Fast Ethernet downlinks and 2 GE combo uplink ports
Cisco IE-2000U-16TC-G-X: 16 Fast Ethernet downlinks and 2 GE combo uplink ports with conformal coat
Cisco IE-2000U-16TC-GP: 16 Fast Ethernet downlinks and 2 GE uplink ports with Power over Ethernet