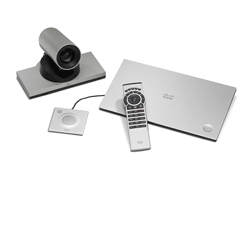 The Cisco TelePresence SX20 Quick Set is a flexible solution that helps you easily turn any flat panel display into a powerful telepresence system for small to medium-size meeting rooms. The SX20 Quick Set delivers high-definition video quality, multiparty conferencing, and three different camera options to accommodate room size and configurations--all at a value price. The SX20 Quick Set provides the performance expected of more expensive systems, in a sleek, compact, multi-featured package. This powerful quick set is ideal for small businesses just starting out with telepresence or large enterprises looking to broaden the benefits of telepresence throughout their organizations. Premium resolution and dual display come standard on SX20 as of March 31, 2014.
Feature and Capabilities
Solution transforms a flat panel display into a high-definition telepresence system
Embedded MultiSite capability gives you the ability to add three more participants to a call
Multimedia and presentation sharing happens at the touch of a button
Simple, intuitive connections make for easy set-up
Specifications At A Glance
Standards-compliant 1080p solution
Premium resolution (1080p60)
H.323 and Session Iinitation Protocol (SIP) up to 6 Mbps point-to-point
Three camera options (2.5 times, 4 times, 12 times zoom)
Dual display
Product Support Services
Cisco's Services can help you increase operational efficiency, lower support costs, and improve availability risk management.