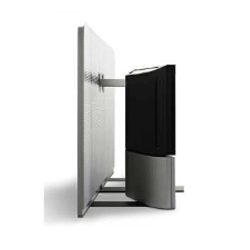 The Cisco TelePresence TX9000 Series raises the standard for "in-person" collaboration. The three-screen telepresence systems feature a new, state-of-the-art industrial design that allows the most natural interactions possible among participants and helps lower the total cost of ownership.
Included in the TX9000 Series are two products: the one-row TX9000 system, which seats up to six people, and the two-row TX9200 system for up to 18 people.
The systems are capable of delivering three simultaneous 1080p60 video streams and one high-definition, full-motion 1080p30* content-sharing stream for exceptional visibility. With modern design and classic functionality, the TX9000 Series delivers the ultimate immersive telepresence experience.
Features and Capabilities
The following features help users to focus on their meetings, rather than on the technology:
Three 65-inch screens are positioned to reduce camera intrusion while maintaining eye gaze.
A state-of-the-art, three-camera cluster allows for greater eye contact and a continuous whole-room experience with no field-of-view overlap.
Uniquely designed, one-inch thin light reflector provides integrated lighting with reduced glare; light reflector can be wall-mounted or free-standing.
Integrated microphones provide better frequency pick-up and shielding to block mobile and wireless device interference.
The Cisco TelePresence Touch 12 panel allows users to initiate and manage meetings with "one-button" simplicity.
Operations and Performance Benefits
Compared with its predecessors, the TX9000 Series offers:
A 20-percent reduction in bandwidth consumption for exceptional video quality
A 50-percent increase in the number of speakers and improved speaker placement for three-channel spatial audioli
Easy installation, configuration, management, and use; room remediation is simpler than competing productsli