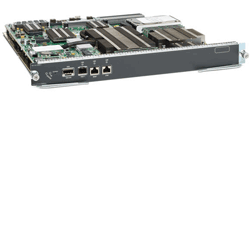 The Cisco Catalyst 6500 Series Network Analysis Module (NAM-3) brings application visibility to high-performance enterprise campus, WAN, and data center networks. It helps simplify network operations, speed troubleshooting, and improve how users experience the delivery of applications and services.So, you can get better control of the network. And stay ahead of the rapidly changing IT landscape.
As an important component of the Cisco Enterprise Networks and Data Center architectures, and part of the Cisco NAM product portfolio, this next-generation service module delivers:
Over 15 Gbps traffic monitoring throughput
Layers 4-7 visibility using Cisco Network-based Application Recognition 2 (NBAR2) natively in the NAM
Visibility into overlay technologies and encapsulated protocols (CAPWAP, VXLAN, and more)
Advanced hardware and software filters
High-performance packet captures with internal and external storage options
Cisco Catalyst 6500 Series NAM-3 benefits include:
Reduced network footprint and administration cost lowers total cost of ownership.
Layers 4-7 application recognition provides rapid visibility into how business-critical applications are performing
Prepackaged dashboards, interactive reports, and intuitive workflows enhance operational efficiency.
Advanced filters, intelligent packet captures, and historical data analysis accelerates problem resolution.
Accurate characterization of end-user experience and proactive detection of performance issues improve service levels.
Open standards-based API preserves investments in existing management assets.
Ability to manage remotely with anytime, anywhere access saves IT staff time and travel.
In addition to integration in the Catalyst 6500-E Series Switches, the Catalyst 6500 NAM-3 is also integrated in the new Catalyst 6807-XL Switch.