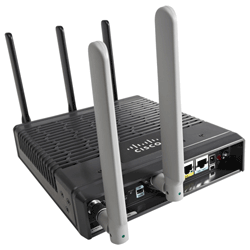 Extend the Enterprise Using M2M Communications
The Cisco 819 Integrated Services Router (ISR) supports machine-to-machine (M2M) applications that can enable enterprises to use 3G wireless WAN network services to go beyond traditional branch locations. Extend your corporate network to the micro branch for applications like automated teller machines (ATMs), kiosks, digital signage, or remote branches.

Features and Capabilities
The Cisco 819 ISR supports 3G, 4G, and 3G with dual radio 802.11n Wi-Fi form factors combined with full features of Cisco IOS Software. The Cisco 819 ISR combines the latest cellular standards (4G LTE), 3G standards (High-Speed Packet Access Plus [HSPA+] release 7 and Evolution Data Optimized [EVDO] Rev A) with Cisco enterprise-class wireless LAN solutions into a single platform.

The Wi-Fi capability of the 819 builds on the Cisco heritage of proactive interference protection with support for Cisco CleanAir technology. These innovative access points provide high-performance 802.11n connectivity for mission-critical mobility solutions.

The Cisco 819 ISR supports:
M2M applications and services
Extensive indoor and outdoor antenna support
Host networks in motion using MultiChannel Interface Processor (MIP)-based network mobility (NEMO)
Cisco advanced IP services IOS with ScanSafe, Wide Area Application Services Express, and extensive security features
Dual cellular 3G/4G and Wi-Fi capabilities
Third-generation (3G) networks are mobile and fixed wireless networks that offer broadband Internet access as well as a wide variety of enhanced multimedia services. With 3G wireless technology, your business can get connected and stay securely connected at high data rates. Mobile operators around the world have rolled out 3G networks, making high-speed access available at all times and in all places. All of these features help ensure the best possible end-user experience with cellular WAN and Wi-Fi LAN wireless networks.

Specifications at a Glance
Building on the Cisco Aironet heritage of RF excellence, the 819 ISR delivers superior performance for highly secure and reliable wireless connections. Enterprise-class silicon and optimized radios deliver a robust mobility experience using Cisco M-Drive technology, which includes:
Flexible WAN connectivity

External dual 3G antennas with main and receive diversity for maximum signal strength connectivity
Dual subscriber identity module (SIM) capability, allowing two service providers to offer services in one platform
Dual radio 802.11n concurrent 2.4 GHz and 5.0 GHz with embedded 2X3MIMO
4G LTE wireless WAN link, which is 10 to 15 times faster and five times lower latency than 3G
3.7 Gigabit HSPA+ release 7 or EVDO Rev A for cellular WAN backup or primary connection

Support for legacy clients

ClientLink improves coverage and reliability of legacy clients

Mixed client environments

BandSelect improves 5-GHz client connections in mixed client environments (PDF - 476 KB)

Media-rich applications

VideoStream uses multicast to improve the experience of multimedia applications.