| | |
| --- | --- |
| Digital Media Services | (Cisco) |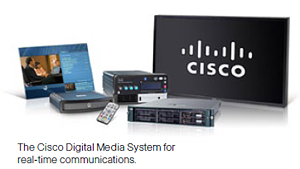 Prepare Services

Business Requirements Gathering
End user service requirements will be identified, categorized and assessed in terms of availability, capacity and security.
High Level Design Development
Digital Media System Solution products, features, and functionalities that meet business and technical requirements will be presented in a documented high-level design.

Planning Services
Assess readiness to support proposed solution

Architecture Validation
Verify that your network architecture meets your solution requirements, design objectives, and future growth plans.
Cisco Digital Media for Signage Readiness Assessment Service
Effectively deploying a Digital Media solution helps you to protect your network investment, optimize network operations, and prepare the network for new applications to meet your business objectives.
Project Management
Development of project management plan, management of deployment project throughout its lifecycle, and creation of plan deliverables.

Design Services
Create a detailed design to address business and technical requirements

Detailed Design Development
Provides a comprehensive, implementation-ready system design for a secure network that will scale to take advantage of Digital Media System innovations.
Implementation Plan Development
Provides a project plan for the implementation of network equipment and applications. Comprehensive planning and scheduling in a structured manner are required to minimize risk and reduce costly delays.

Implementation Services
Deploy new technology

Pilot or Production Implementation
Cisco engineers create an implementation project plan and test plan, and then execute the tests to verify the implementation meets expectations.
System Ready for Use Validation
Performs system-level acceptance testing at the end of implementation.
Knowledge Transfer
Dedicated training to system managers and help-desk personnel on a variety of topics including Digital Media System software, hardware configuration, video storage, and video management.