| | |
| --- | --- |
| Cisco ASR 9010 Router | (Cisco) |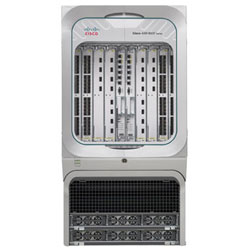 The Cisco ASR 9000 Series operates in a fully distributed fashion which equates to all packet forwarding decisions and actions taking place on individual line cards. The purpose-built high-density Ethernet line cards are equipped with a flexible programming infrastructure, high-density Ethernet, robust Hierarchical Quality of Service (H-QoS), advanced Ethernet services, wide ranging security mechanisms, and integrated Synchronous Ethernet capabilities. The distributed implementation on the ASR 9000 Series extends to the control plane as well and adds a new dimension in scale for features such as Bidirectional Fault Detection (BFD) and Ethernet Operations and Maintenance. (E-OAM) for improved resiliency and comprehensive, automated instrumentation.

Both the ASR 9010 and ASR 9006 routers are designed with key capabilities to help deliver the services of tomorrow. Providing increased bandwidth capabilities for network devices at economically viable prices is one of the primary criteria for true carrier-transport platforms.While traditional service prices continue to decline, the Cisco ASR 9000 Series helps establish a new financial reality by facilitating reliable and scalable video, next-generation mobile aggregation, and advanced Carrier Ethernet service offerings.