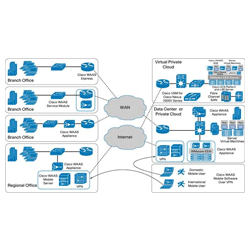 Extend application acceleration benefits to your mobile workers. Cisco WAAS Mobile addresses the unique challenges of mobile networks and offers a wide range of benefits:
Because mobile workers experience a greater percentage of first-time traffic than branch users, WAAS Mobile applies aggressive application acceleration techniques to deliver excellent first-time download performance.
WAAS Mobile optimizes cellular, satellite, WiFi, WiMax, and DSL networks to reduce timing variations, high latency, and noisy connections and increase link resiliency.
Bi-directional history of data on both the mobile device and the WAAS Mobile server minimizes bandwidth consumption because history is shared across all protocols, across different VPN sessions, and even after a reboot.
Application protocol optimizers reduce application round trips for file transfers, Outlook, enterprise web applications, and web browsing.
Secure Mobile Acceleration
Compatible with a broad range of SSL and IP Security VPNs
Optionally encrypted server and client history
Encrypted transport
Low Total Cost of Ownership
Up to 40 percent smaller footprint and fewer computing resources
Centralized management capabilities and proven interoperability in Windows environments
Easy deployment: up and running in 30 minutes