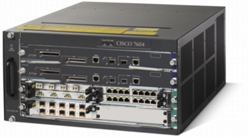 The Cisco 7600 Series is the industry's only edge router that delivers robust, high-performance IP/MPLS features for a range of service provider edge and enterprise MAN/WAN applications.
Important Features and Benefits:
Its broad set of interfaces and innovative adaptive network processing technology supports integrated Ethernet, private-line, and subscriber-aggregation capabilities.
A 4-slot chassis in a 5-rack-unit form factor, the device is one of the smallest, redundant routers to offer n x 10 Gigabit Ethernet performance with services.
The Cisco 7604 is a natural upgrade for existing Cisco 7500 Series customers because of its Cisco IOS Software feature parity and FlexWAN support for existing Cisco 7200/7500 Series port adapters.
Customers gain flexibility because of its two configuration options—either a single supervisor engine and up to three line cards, or dual supervisor engines and up to two line cards for high availability and redundancy.
Support for the Cisco shared port adapter (SPA)/SPA interface processor (SIP) portfolio, modular port adapters that are interchangeable across Cisco carrier routing platforms, offers dramatically increased slot economics in a compact form factor.