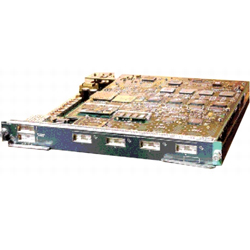 Cisco 7600 Series Enhanced 4-Port Gigabit Ethernet OSM
The growth of the packet networking and value-added applications has led to the need for the next-generation of capacity and service scaling in service provider networks. Gigabit Ethernet has emerged as a crucial technology at the network edge and access for enabling high-speed, cost-effective network connectivity to power Layer 2 or Layer 3 service offerings. In addition to the scalable bandwidth provided by Gigabit Ethernet, the service provider's next-generation network also needs to deliver sophisticated packet services that enable and enforce tiered levels of provisioned bandwidth to meet the needs of a diverse customer base. The ability to deliver either Layer 2 or Layer 3 end-user services provisioned with features such as quality of service (QoS), traffic shaping, and traffic accounting have become critical requirements that must be integrated with high-speed Gigabit Ethernet connectivity to deliver the network capabilities necessary to ensure service provider success.
To meet these requirements, Cisco System offers the Enhanced Gigabit Ethernet Optical Services Module (OSM) for the Cisco 7600 Series Internet Router (Figure 1). This module allows service providers to offer a wide range of end-user services based on IP, Multiprotocol Label Switching (MPLS), and Ethernet over MPLS (EoMPLS) technologies over high-performance Gigabit Ethernet interfaces.
Service providers can deploy the Cisco Enhanced Gigabit Ethernet OSM in a variety of network architectures and configurations. Furthermore, the Enhanced Gigabit Ethernet OSM supports the delivery of versatile end-user services with the ability to scale this service delivery to thousands of individual customers. As a result, the Enhanced Gigabit Ethernet OSM is uniquely capable of delivering a broad range of end-user services provisioned with QoS, security, and traffic-shaping features offered on a per-customer basis.