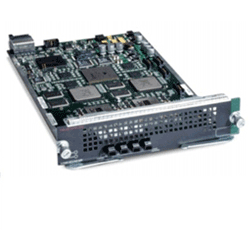 Cisco 7300 2 and 4-Port OC-3c/STM-1 Packet over Sonet/SDH Line Card
The Cisco 7300 Series Internet Router is designed for the network edge where high performance IP services are required to enable profitability, service differentiation, and business agility. Utilizing a compact (4 Rack Unit), modular (4 slot) form factor, the Cisco 7300 delivers high-touch IP services at optical speeds necessary for applications in the high-end enterprise and the service provider managed service customer premise equipment (CPE).
High performance services are critical in these implementations, and the Cisco 7300 delivers an evolving set of hardware accelerated IP Services via the Cisco patented Parallel eXpress Forwarding (PXF) IP Services Processor technology. The Cisco 7300 provides a range of connectivity from T3 to Gigabit Ethernet, OC-48 performance, an architecture engineered for high availability, and multi-protocol support. With two Gigabit Ethernet ports built into the system, the Cisco 7300 is the evolution of Cisco System's 7x00 series routers.