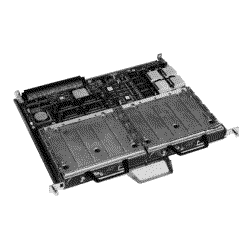 Fast Ethernet connectivity, including support for virtual LANs (VLANs), is available in a variety of interface options for the Cisco 7500 and Cisco 7000. These options enable network managers to implement their Fast Ethernet routing solutions for optimal cost and performance across a wide range of applications including campus/enterprise backbones, data centers, and high-performance routing between multiple VLANs. Combined with a broad range of Fast Ethernet switching solutions, Cisco offers a complete family of products for constructing cost-effective Fast Ethernet enterprise networks that complement established 10BaseT networks.
Fast Ethernet Features
Available in one-port, two-port, or mixed-media configurations
100BaseTX (two pair Category 5 unshielded twisted pair [UTP]) connectivity through an RJ-45 connector
100BaseFX (62.5/125-micron multimode fiber) connectivity through an SC connector
100BaseT4 (four pair Category 3, 4, or 5 UTP) connectivity through the MII and customer-provided transceiver
Each port configurable for either full- or half-duplex operation
ISL support for high-performance routing between multiple VLANs
IEEE 802.10 TB-VLAN support for transparently bridging VLANs
Online insertion and removal (OIR), enabling users to remove, add, or replace interface processors on line, increasing system availability
Onboard packet and program memory in each FEIP, VIP, and VIP2, providing transmit and receive buffering and the ability to receive different software/microcode downloads; reduces cost of administering software by providing centralized network management
LEDs to provide quick status checks and problem identification
CiscoWorks? network management integration, including CiscoView? applications, to provide device status and monitoring, simple configuration, and minor troubleshooting
Simple Network Management Protocol (SNMP) support through standard MIBs, enabling visibility and management control on SNMP-supported network management stations.