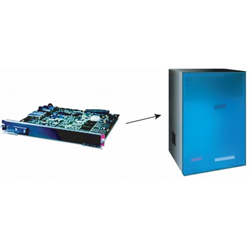 As service providers continue to roll out wireless Internet services to retain customers and increase profitability, proper billing for delivery of this content is the key to success. The operator must be able to:
Accommodate various types of billings based on volume, time, session, click, URL, and transaction type
Collect all of the relevant sources of billing data from Web logs, URLs, etc.
Measure the full range of data types and sources that are associated with the value-added content and services
The Content Services Gateway (CSG) enables you to bill based on the content being provided. It monitors and meters data traffic at Layer 4 through Layer 7 and passes to a billing mediation agent information that can be used for billing customers. Objects may be billed at different rates and even to different responsible parties.
The CSG will be deployed to provide scalable content services for clients near the edge of the network, at an ISP POP or Regional Data Center, for example.
Key Benefits
Enables you to offer and bill for content-differentiated, value-added services
Increases revenue potential through more granular billing
Uses content filtering to meet requirements for security and privacy
Builds on proven IP standards
Supports volume, duration, and event-based billing
Provides information for analyzing user preferences, attractiveness of content providers, network traffic, etc.