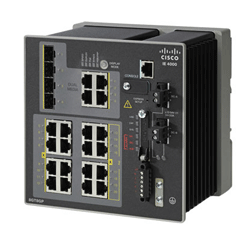 The Cisco Industrial Ethernet (IE) 4000 Series offers highly scalable, easy-to-manage, and resilient switches with a comprehensive feature set. These switches provide superior, high-bandwidth switching (Layer 2) and proven IOS-based routing (Layer 3) capabilities for industrial environments.
Features and Capabilities
The IE 4000 Series Switches are built to withstand extreme environments while adhering to overall IT network design, compliance, and performance requirements. They deliver highly secure access and industry-leading convergence using Cisco Resilient Ethernet Protocol (REP), and support industrial protocols.
The series is ideal for industrial Ethernet vertical industries applications where hardened products are required. That includes:
Factory automation
Power utility substations
Intelligent transportation systems (ITS)
Oil and gas field sites
City surveillance programs
Mining
With improved overall performance, greater bandwidth, a more comprehensive feature set, and enhanced hardware, the Cisco Industrial Ethernet (IE) 4000 Series offers:
Superior bandwidth and capacity: 40 Gbps non-blocking switching capacity with up to 20 Gigabit Ethernet ports per switch
High density industrial Power over Ethernet or Power over Ethernet Plus support providing in-line power to up to eight power devices
IOS software features for smooth IT integration and policy consistency
Robust resiliency and enhanced security
Simplified, pay-as-you-go software upgrade path with universal software image
Specifications at a Glance
| Port configuration | Up to 20 ports with compact form factor |
| --- | --- |
| Uplinks | Four Gigabit Ethernet (GE) Combo (supporting both copper and fiber physical ports) |
| Downlinks | Multiple options available Fast Ethernet (FE) and GE, copper and fiber, PoE, and PoE+. Up to 16 x GE capacity |
| Manageability | Swappable SD flash card (for configuration storage), mini USB connector, RS-232 console port |
| Industrial Ethernet protocols supported | Cisco Common Industrial Protocol (CIP), EtherNet/IP, PROFINETv2 and more |