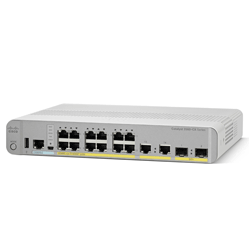 Extend enterprise-class services to wherever you want, far from the wiring closet. Cisco Catalyst Compact Switches help transform the workspace by delivering management simplicity and flexibility, optimum user experience, lower cost, and faster deployment. These fan-less switches are ideal to help you create new business opportunities in the enterprise Internet of Things (IoT).
Features and Capabilities
The Cisco Catalyst 2960-CX Switch is a Layer 2 switch that is purpose built to enhance scalability and reduce costs through cable consolidation.
Primary Features
Fan-less design and flexible mounting options, ideal for deployment outside wiring closets, in classrooms, hotel rooms, etc.
Integration with Cisco Identity Services Engine for identity, segmentation, and security
Switch hibernation mode and Energy Efficient Ethernet (EEE) for increased energy efficiency
Also included is support for Cisco Application Policy Infrastructure Controller Enterprise Module (APIC-EM) for:
Software-defined networking (SDN) programmability
Network plug-and-play (PnP)
Specifications at a Glance
8 x 1 GE downlink ports and 2 x 1 GE Small Form Factor Pluggable (SFP) and copper uplinks
Up to 124 Watts of PoE+ power budgeted per switch