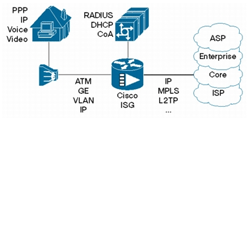 The Cisco Intelligent Services Gateway offers Service Providers an opportunity to take direct control of resources and characteristics in their broadband network to deliver next generation services by:
Controlling, securing & differentiating services via intelligent policies embedded directly in the network or received via open and standards-based control interfaces to the BSS
Customizing Service Convergence with zero-touch provisioning across customized networks
Distributing IP Session control into the network while simultaneously maintaining consistent PPP session control
Cisco ISG is an On-ramp to Cisco's IP NGN Service Exchange Framework and functions as part of the service provider's end-to-end solution. ISG features are part of IOS — ISG policy & service control features link with the complete IOS routing, QoS, ACL, VRF, MPLS, and other IOS technologies for comprehensive session management. ISG is highly scalable, with consistent performance regardless of the features used.
Brief Overview of Benefits
ISG features in IOS offered across industry leading portfolio of Cisco routers
Interface for ATM, Gigabit Ethernet, VLAN, and IP Access
Transport service across IP, L2TP and MPLS network interfaces
Establish and control PPP as well as next generation IP or IP Subnet Sessions
Authenticate and authorize subscribers using DHCP or RADIUS based authentication
Define local intelligent policies directly in ISG router
Support standards based RADIUS CoA (RFC 3576) service control interface into BSS
Control & account for per-subscriber & per-service use for post-paid and pre-paid billing