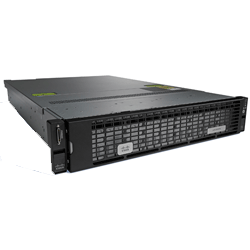 Dramatically improve application performance in medium-scale environments with Cisco UCS Invicta C3124SA Appliance, which fits into existing infrastructures and supports block storage protocols. Depending on business needs, customers can choose to accelerate workloads or reduce the amount of data as the UCS Invicta Appliance is available in either high-performance or data-reduction mode.
Features and Capabilities
Converged infrastructure
Unified management with Cisco UCS Director speeds up resource allocation and reallocation through process automation.
The simplified infrastructure helps to improve total cost of ownership (TCO).
Purpose-Built
The UCS Invicta operating system (OS) (PDF - 2.69 MB) was explicitly designed for NAND flash. It:
Sustains high throughput, high input/output operations per second (IOPS), and ultra-low latency
Implements a system-wide log structured indirection layer
The proprietary write logging layer helps ensure data integrity in the face of power loss. And the data integrity layer provides both positional validation and traditional data validation when read.
Application Acceleration
Move business forward by accelerating applications. With the USC Invicta C3124SA Appliance, you can:
Extract data, integrate data, and perform analysis up to 10 times faster
Run batches without pausing workflow
Dramatically decrease query response times
Reduce email time delays by a factor of up to 50
Improve user experience with virtual desktops that launch faster and respond quickly while scanning for viruses