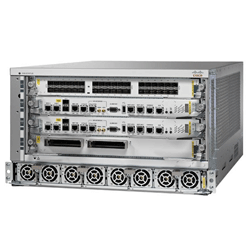 The Cisco ASR 9904 Router provides dense, line-rate 10 GE and 100 GE connectivity in space-constrained environments. Each slot is capable of switching up to 2 Tbps of bi-directional traffic. That means the ASR-9904 can scale up to 4 Tbps of switching capacity without the need for a complete chassis replacement.
Features and Capabilities
The Cisco ASR 9904 Router offers the same innovations for high capacity brought by the Cisco ASR 9922 and Cisco ASR 9912 Routers. In addition, it offers:
A small 6 rack-unit (RU) form factor
2 line-card slots
1+1 redundancy with two route switch processors (RSPs)
The same modular power design common to the ASR 9000 Series Routers
When combined with its capability to host for nV Satellites, the ASR 9904 offers support for massive GE fan outs. It also supports full line-rate for 10 GE and 100 GE interfaces, all within the same compact chassis.
For more information on installing Cisco ASR 9000 Series Aggregation Services Routers, see the hardware installation guide.
Specifications at a Glance
Features
Description
Slots
4 slot chassis – 2 line cards, 2 RSPs
Rack Size
6 RU
Power
1 power shelf, 4 power modules
8.4 KW DC / 12 KW AC available
2.1 KW DC / 3.0 KW AC supplies
Fan
One Fan Tray, Field Replacement Unit (FRU)
Side-to-side airflow, with optional Air Baffle for front-to-back airflow
RSP
RSP - Route processor with integrated Switch Fabric (Same as ASR 9006 and ASR 9010)
1 + 1 Redundancy
Bandwidth
Phase 1: 770 Gb per slot
Capacity: 2+ Tb per slot
SW
Cisco IOS XR 5.1.0