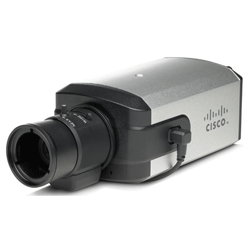 Deploy true high-definition (HD) IP digital cameras designed for superior performance in a wide variety of video surveillance applications. The Cisco Video Surveillance 4500E IP Camera offers:
True HD video and H.264 compression
Progressive scan streaming up to 30 frames per second (fps) at 1080p (1920 x 1080) resolution
Resolution of up to 60 fps at 720p (1280 x 720)
Optional digital signal processor (DSP) for edge-based video analytics
Medianet support
This flexible, multipurpose camera captures outstanding quality video. Contact closures and two-way audio allow integration with microphones, speakers, and access control systems. With its open, standards-based design, this camera provides an ideal platform for integration and operation as an independent device or as part of a Cisco Video Surveillance network.
Moreover, this camera supports medianet technology, which simplifies deployment of the cameras by auto-configuring Smartports on the Cisco switches that also support medianet. This auto-configuration sets the right network parameters for video streams on the network.
Additional benefits include:
Dual streams
Day and night operation
Motion detection and event notification
Real-time, edge-based video analytics capabilities
Embedded security with hardware encryption
Flexible power options including Power over Ethernet (PoE)