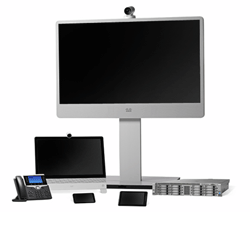 Empower your employees to engage and innovate anywhere, on any device, any time, with industry-leading technology. Cisco Business Edition 7000 is a family of all-in-one, end-to-end collaboration solutions designed for fast-growing enterprises. Get a simpler, faster, and better way for every employee to collaborate inside and outside of the organization with technology that can scale as you grow.
Features and Capabilities
Built with trusted Cisco technology, Cisco Business Edition 7000 (BE7000) platforms deliver powerful, advanced collaboration services and tools that connect your entire organization. Interoperable and centrally-managed, each BE7000 package consolidates multiple communications and collaboration applications on single platform models that are built to scale with business growth.
Features
Complete service offering: End-to-end collaboration capabilities include voice, video, conferencing, messaging, instant messaging and presence, mobility, and more, for every user.
Differentiated communications capabilities: A cost-effective, high-quality multiparty video conferencing option brings employees, customers, and partners closely together.
Simplified deployment and management: Preconfigured virtualized servers with ready-to-run virtualization software and ready-to-activate collaboration applications make setup quick and easy.
Open and interoperable architecture: Innovative platforms transparently support preferred third-party applications and existing telepresence and video endpoints.
Scalable and highly-available platforms: Our modular, stackable design scales for future needs and growth; simply add more servers to increase support capacity.
Customer Benefits
Cisco Business Edition 7000 is a customizable collaboration solution that can help you:
Delight your users with interactive, intuitive, easy-to-use collaboration
Boost productivity with efficient, highly secure, connected workspaces
Reduce complexity with a simple, easy-to-manage platform
Lower total cost of ownership with cost-effective, time-saving operations
Protect investments with a scalable, modular, stackable design