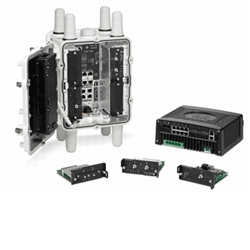 Reliable Communications for Field Area Networks
Utilities and energy providers can now deploy rugged multiservice routers in secondary substations, on pole tops, and in other harsh environments. Cisco 1000 Series Connected Grid Routers offer a reliable communications platforms for smart metering, distribution automation and remote workforce automation.
Cisco 1000 Series Connected Grid Routers are multiservice communications platforms designed for use in field area networks. The portfolio consists of two models - each designed to operate reliably in various types of harsh environments, ranging from indoor substations to outdoor pole-top deployments. Both models are modular and support a variety of communications interfaces, such as WiMAX, second- and third-generation (2G and 3G), 900 MHz RF Mesh, Ethernet, and Wi-Fi.
Features and Capabilities
Rugged industrial design and compliance with IEC-61850-3 and IEEE 1613 for utility substation environments
Multi-service features including IPv6, Advanced Routing, IP Multicast, and quality of service
Comprehensive security capabilities based on open standards
Highly resilient design that optimizes communications network uptime and availability
Network and device management tools for easy deployment, upgrades, and remote monitoring
Specifications at a Glance
Cisco 1240 Connected Grid Router
(CGR1240 -Outdoor Model)
Cisco 1120 Connected Grid Router
(CGR1120 -Indoor Model)
Chassis Type
Pole-top mounting, IP67 ruggedized
Din-rail mounting, IP30 ruggedized
Module slots
4
2
Integrated Ports
2 Serial, 2 GE, 4 FE
2 Serial, 2 GE, 6 FE
Backup Battery
Yes, integrated
No; needs external battery backup
Power Supply
1-Phase AC: 100 - 240 VAC
3-Phase AC and DC: 100 - 240 VAC and 9 - 60 VDC
Dimensions
(H x W x D)
30.5 cm x 23 cm x 21.6 cm
(12 in. x 9.0 in. x 8.5 in.)
8.9 cm x 22.9 cm x 20 cm
(3.5 in. x 9.0 in. x 7.8 in.)