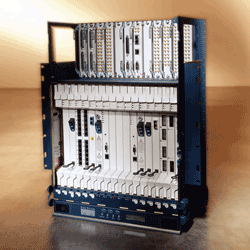 Fill Voice, Video and Data Service Needs with a Single SDH Platform
The ONS 15454 SDH Multiservice Provisioning Platform (MSPP) provides the functions of multiple network elements in a single platform. The ONS 15454 MSPP provides SDH solutions supporting common interfaces such as E1, E3, and DS3, data solutions including 10/100/1000 Mbps Ethernet solutions with STM1 through STM64 optical transport bit rates in both gray and DWDM (ITU compatible) wavelengths.
The ONS 15454 SDH supports the following industry-leading capabilities:
Aggregation and transport of services from E1 to STM64
Flexible architecture with multirate (SFP-based) Ethernet and optical modules
Metro Ethernet Forum (MEF) Certified ELINE and ELAN
10 Gb Ethernet modules
Flexible networking support, including rings, linear point-to-point, linear add/drop, star, and hybrid topologies
Restoration choices: SNCP, 2-fiber and 4-fiber MS SPR, 1+1 APS, and Cisco Path Protected Mesh Networking (PPMN)
Compact footprint for deployment flexibility (3 fit within a 2000mm ETSI rack/cabinet).
Integrated Cisco Transport Controller (CTC) super craft management tool for simple, fast and easy operation
Carrier-class reliability
Featured Content
Optimizing Cellular Backhaul Networks
Cisco MSPP solutions support both emerging packet services and conventional T1/DS-1 traffic, so you can scale and migrate cellular applications from TDM to IP cost-effectively.
XO Accelerates Network Convergence to Cisco IP NGN
This leading provider of 21st century communication services uses 10 Gb Ethernet over SONET/SDH to converge its time-division multiplexing (TDM) and IP infrastructure.
Multimedia Demo
Learn more about Cisco ONS 15454 SDH Multiservice Provisioning Platform with Intelligent DWDM. (Flash plug-in needed)