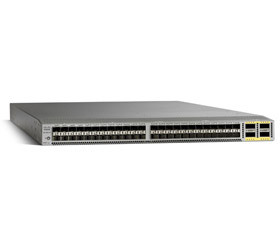 The Cisco Nexus 6001 Series Switch is a wire-rate Layer 2 and Layer 3, 48-port 10 Gigibit Ethernet (GE) switch with 40 GE uplinks. It is optimized for high-performance, top-of-rack 10 GE server access and Cisco Fabric Extender (FEX) aggregation. The switch delivers high performance, operational efficiency, and design flexibility for traditional, virtualized, and cloud environments.
Features and Capabilities
The Cisco Nexus 6001 Series Switch serves as part of the Cisco Unified Fabric, offering a comprehensive, Cisco NX-OS feature set. Benefits include.
High Scalability and Performance
48, 10 GE line-rate Layer 2, Layer 3 ports with 40 GE uplinks
Up to 1152, 1 and 10 GE server ports in conjunction with the Cisco Nexus 2000 Series Fabric Extenders
Cisco FabricPath support for scalable Layer 2 networks
Operational Efficiency
Advanced analytics tool kit with latency and buffer monitoring
Single point of management with Cisco Fabric Extender (FEX) Architecture
Power on auto provisioning (PoAP)
Agility
Programmability - Python scripting, Cisco Tool Command Language (TCL) scripting, Cisco's One Platform Kit (OnePK; support in future software release)
Support for 10 GE and 40 GE Fibre Channel over Ethernet(FCoE)
Specifications at a Glance
One rack-unit (RU) form factor
48 fixed 1 and 10 GE ports and 4, 40 GE QSFP+ uplink ports
Line-rate Layer 2, Layer 3 throughput of 1.28 Tbps
Front-to-back air flow