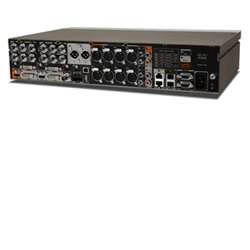 The Cisco TelePresence Codec C90 is the most powerful and flexible Cisco collaboration engine, serving telepresence studios, boardrooms, auditoriums, education, and telemedicine applications with 1080p HD video and ultra-wideband audio.
Features and Capabilities
With five simultaneous video inputs, the Codec C90 can support highly personalized and interactive team collaboration and content sharing. The interface accepts 12 direct HD sources and eight microphones.
The possibilities for integration and customization will stretch your imagination.
Specifications at a Glance
Powerful, feature-rich codec delivering up to 1080p60 HD video
Full duplex audio with high-quality stereo sound
1080p30 HD-embedded MultiSite technology with individual transcoding
Standards-compliant; compatible with standards-based video without losing features