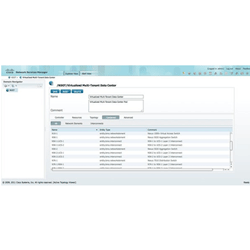 Organize your network resources into a flexible, multi-tenant data center infrastructure with Cisco Network Services Manager 5.0. Using Network Services Manager, you can integrate your network with your existing IT operational tools and processes.
Optimize Capacity Use and Cut Costs
The Network Services Manager network abstraction layer helps you provision and deploy numerous individual network components as sophisticated network "containers." You can create these containers:
Across single and multipod cloud computing deployments
Much more easily and quickly than with template- and script-based systems
In addition, Cisco Network Services Manager:
Dramatically reduces network operational costs and potential misconfiguration
Optimizes capacity use and accelerates service delivery
Deploy Flexible, Policy-Directed Management
Cisco Network Services Manager offers a flexible, policy-directed approach to managing and controlling cloud computing network services. Through a configuration user interface, Network Services Manager helps administrators dynamically define and control an array of behaviors in their cloud computing environment, including:
Creating different levels of service capability or "service tiers" for tenant use
Defining the capabilities and resources available in each tier
Structuring a system of "containment" tailored to tenant application and deployment model needs
Specifications at a Glance
Network Services Manager consists of two Linux servers deployed as OVA images in a VMware virtual data center reserved for management of the equipment. Table 1 lists system requirements for Network Services Manager Engine software, Table 2 gives the system requirements for Network Services Manager Controller software, and Table 3 lists the system requirements for browser access to Network Services Manager.
Table 1. Network Services Manager Engine Software
| | |
| --- | --- |
| Hardware | Dual Core CPU |
| Disk space | 40 GB |
| Memory | 2 GB |
Table 2. Network Services Manager Controller Software
| | |
| --- | --- |
| Hardware | Dual Core CPU |
| Disk space | 40 GB |
| Memory | 1 GB |
Table 3. Browser Software Access to Network Services Manager
| | |
| --- | --- |
| Hardware | Dual Core CPU |
| Software | Firefox 3.6 and 4, Internet Explorer 7 and 8 |