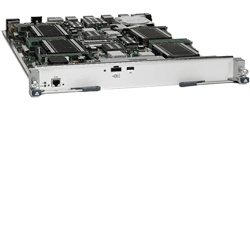 The high-performance Cisco Nexus 7000 Series Network Analysis Module (NAM) brings application-awareness to the Cisco Nexus 7000 Switch. It gives you an integrated, scalable, and flexible solution to help simplify services delivery in the dynamic data center.
Features and Capabilities
The Cisco Nexus 7000 Series NAM evolves the fabric into a services-rich platform. It delivers application visibility and performance analytics in the physical and virtual data center to help you more effectively build and deliver rich services.
Extend Visibility
The Cisco Nexus 7000 Series NAM provides pervasive network intelligence and performance analytics across physical, virtual, and cloud. This includes Layers 4-7 visibility using Cisco Network-based Application Recognition 2 (NBAR2) natively to identify business critical applications, help right-size resources needed for their effective delivery, and accelerate the proactive resolution of performance problems. It also includes visibility into OTV, VXLAN, and other encapsulated technologies that are the foundation of a scalable, virtualized data center. The NAM gives you all of the visibility you need to gain better control over operations and help enable the data center to be a more agile and efficient environment.
Scale Performance
Purpose-built to meet the rigorous performance demands of the data center, the Cisco Nexus 7000 Series NAM takes advantage of leading-edge processing and packet acceleration technologies onboard to deliver best-in-class network analytics. It also comes with scalable options for packet capture storage to meet diverse troubleshooting needs. The NAM offers performance that scales, helping you keep vital network and customer services running optimally.
Key Benefits
Layers 4-7 application recognition and performance characterization helps ensure that business-critical applications are performing at ideal levels.
Visibility into virtualized infrastructure technologies promotes the optimal design of the network for distributed and efficient services delivery.
Advanced filters, intelligent packet captures, and retrospective data analysis

accelerate

problem resolution
Open standards-based API preserves investments in existing management assets
Prepackaged dashboards, interactive reports, and intuitive workflows enhance operational efficiency
The Cisco Nexus 7000 Series NAM is a member of the Cisco Prime NAM product family and a component of the Cisco Nexus 7000 Series.
Specifications at a Glance
Two x86 CPU clusters, with total of four 8-core CPUs and hardware-based packet acceleration for high-performance Gigabit Ethernet monitoring
64 GB DDR3 RAM
900 GB SAS onboard hard disk drive
Mini-Serial attached SCSI (SAS) and iSCSI options for external storage interface
RJ45 Gigabit Ethernet 1588 time synchronization port