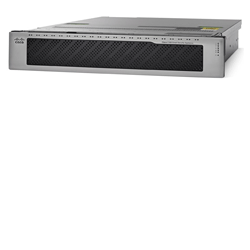 Cisco Email Security Appliance C170 uses some of the industry's most advanced technology to automatically stop spam, viruses, and other anomalies.
The all-in-one Cisco Email Security Appliance C170 is:
Accurate
Affordable
Easy to use
Purpose-built for email security
The Cisco C170 is designed to meet the needs of commercial businesses. This appliance is built on the same comprehensive platform that protects the email infrastructures of major Forbes Global 2000 companies.
Together, the features of this product provide high levels of corporate email security with innovative visibility and management tools.
Use Innovative Email Security Technology
The Cisco C170 is designed and built not only for power and ease of use, but also for affordability. This innovative technology provides a comprehensive solution to help ensure the availability and security of your email infrastructure, implemented cost-effectively for companies of all sizes.
Management Tools
The Cisco C170 offers exceptional management tools, including:
Centralized Management
SNMP Enterprise MIB
Intuitive GUI
Spam Defense
Help defend against spam with the following important features:
Cisco Web Reputation Filters
Cisco Anti-Spam
Virus Defense
The Cisco C170 provides exceptional virus defense, with the following integrated features:
Cisco Outbreak Filters
Sophos Anti-Virus technology
McAfee AntiVirus technology
Policy Enforcement
To help enforce policies, the Cisco C170 offers:
Content Filters
Data Loss Prevention
Cisco Email Encryption
Email Authentication
The Cisco C170 offers the following features to provide email authentication:
DomainKeys Identified Mail (DKIM) and DomainKeys Signing
Cisco Bounce Verification