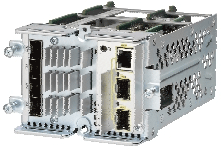 The new Cisco Ethernet Switch Module (CGR 2010 ESM) greatly expands the capabilities of the Cisco 2000 Series Connected Grid Routers. This module integrates industry-leading Layer 2 and Layer 3 (optional) switching with feature sets comparable to those in Cisco 2520 Connected Grid Switches. It comes in two models, to provide both copper and fiber connectivity options.
The Cisco Ethernet Switch Module and the Cisco 2010 Connected Grid Router (CGR 2010) are designed specifically for use in connected energy applications such as:
Grid automation
Distributed generation
Integrated renewable energy
Trackside substations
Water, oil, and gas applications
The CGR 2010 ESM uses Cisco IOS Software, the operating system that powers millions of Cisco switches worldwide. It provides the benefits of improved security, network resiliency and reliability, and scalability.