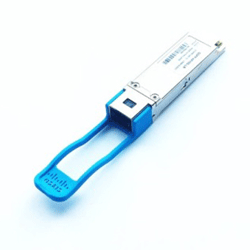 Cisco offers a broad range of 40 Gigabit Ethernet interfaces to meet the high-performance connectivity requirements of campus, data center, and cloud deployments. Our latest innovation, the QSFP BiDi 40 GE transceiver, helps you migrate from 10 to 40 Gigabit Ethernet on the same fiber infrastructure, saving you money.
Features and Capabilities
Quad Small Form-Factor Pluggable (QSFP) Bi-Directional (BiDi) Transceiver Helps Accelerate 40 GE Adoption
The Cisco QSFP BiDi transceiver offers the industry's most cost-effective solution for 40-Gbps connectivity. By transmitting full-duplex 40 Gigabit Ethernet over a duplex multimode fiber (MMF), it helps enable seamless 10 to 40 Gigabit Ethernet migration over your 10 Gigabit Ethernet fiber infrastructure.
QSFP BiDi Monitor
The Cisco QSFP BiDi Monitor provides passive optical tap capability for Bidi links, allowing data monitoring for security and network optimization analysis.
QSFP+ Options for High-Density 40 GE Connectivity
With the development of the SFF-8436 Multi Source Agreement, Cisco now offers a variety of IEEE- and MSA-compliant Quad Small Form-Factor Pluggable Plus (QSFP+) devices for copper and fiber networks. The Cisco 40GBASE QSFP+ devices help enable connectivity between server access, top-of-rack, and end-of-row switches deployed in high-performance computing networks.
CFP 40 Gigabit Ethernet Transceiver Modules
See the variety of choices available with the Cisco 40GBASE and OTU-3 C Form-Factor Pluggable (CFP) modules. These devices enable connectivity in the distribution and core layers of data center, enterprise, and service provider networks.