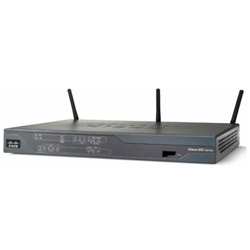 The Cisco 887VA-W Integrated Services Router supports DSL multimode, including very-high-speed DSL 2 (VDSL2) and asymmetric DSL 2+ (ADSL2+), over basic telephone service. The router supports VDSL2 and ADSL2+ on a single WAN interface.

The 887VA-W router, part of the Cisco Integrated Services Router Generation 2 portfolio, also supports next-generation 802.11n to deliver at least six times the throughput of existing 802.11a/g networks. Its integrated access point gives enterprise-class performance quality to small and medium-sized offices.

Features
Integration of WAN, security, and wireless services in one device
Primary and backup connections for business continuity
Up to 20 broadband-speed VPN tunnels
Independent DSL firmware loading
Four 10/100 Mbps Fast Ethernet-managed switch ports
Cisco Configuration Professional simplifies deployment, and a universal software image makes expansion easy. The 887VA-W router is part of the Cisco Unified Wireless Network, and integrates smoothly into your existing network to give you centralized network management. It includes built-in security features such as Network Address Translation (NAT) and firewall.
Available Options
Cisco offers advanced security options, including intrusion prevention, GET VPN, and dynamic multipoint VPN
Power over Ethernet (PoE) is available for two switch ports
Featured Content
880VA Certified Service Providers
Identify certified service providers for Cisco 880VA Series and EHWIC-VA-DSL modules.