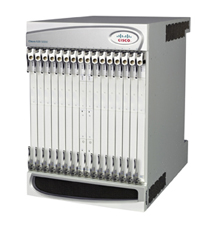 Deliver exceptional service to customers by using real-time information collected by the Cisco ASR 5000 Series. The extensive information helps you provide precise reporting, troubleshooting, and system management.
The Cisco ASR 5000 Series collects extensive real-time information, such as:
Service information, including from Layer 1 to Layer 7 through shallow and deep packet inspection (DPI)
Real-time tracing and troubleshooting information
Cisco Intelligent Management primary modules include Cisco Mobility Unified Reporting System, Cisco InTracer, and Cisco ASR 5000 Element Management System.
The Cisco ASR 5000 Element Management System is a centralized service and network element management product that:
Controls the multimedia core platform
Provides fault, configuration, accounting, performance, and security (FCAPS) functions through a web-based GUI
Easily integrates into your network, service, and business management systems
Offers a suite of services that enhance your network and revenue generation opportunities
In addition, this product offers the following important features:
Compilation of bulk statistics
Protocol monitoring, session monitoring and auditing, and network troubleshooting
Session monitoring and auditing
Enhanced network troubleshooting
Deep subscriber understanding
Fault, Configuration, Accounting, Performance, and Security (FCAPS) capabilities
Common Object Request Broker Architecture (CORBA) northbound interface to simplify integration with higher level network, service, and business layer applications using the Object Management Group's Interface Definition Language (IDL)
Supports CORBA protocol, CORBA Secure Sockets Layer (SSL) for encryption of management data, and Simple Network Management Protocol (SNMP) for fault management
10 Base-T, 100 Base-TX, 1000 Base-TX, or 1000 Base-SX (optical gigabit Ethernet) Ethernet management interfaces
Java-based, client-server model supports most major browsers