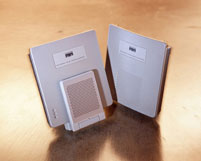 The Cisco Aironet 1200 Series Access Point is a single band lightweight or autonomous access point with dual diversity antenna connectors for challenging RF environments. It offers the same versatility, high capacity, security, and enterprise-class features demanded by industrial wireless LAN customers in a single-band 802.11g solution. The modular device provides the flexibility to field upgrade to a dual-band 802.11a/g network by adding a CardBus-based 802.11a upgrade module that can be easily installed into Cisco Aironet 1200 Series access points originally configured for 802.11g. The device is available in either a lightweight version, or as an autonomous version that may be field-upgraded to lightweight operation.
Cisco Unified Wireless Network
Extend security, reliability and scalability to the wireless LAN with an integrated wired and wireless framework. View key documents and news highlighting this innovative solution.
Cisco Wireless Service and Support
Cisco Aironet Compliance Status and Country SKU Options
Current status of product certifications in specific countries and country sku options.
Cisco Wireless Software Center
Download software, firmware, and utilities for Wireless LAN Access devices.
Cisco Compatible Extensions Program for WLAN Devices
Learn more about the Cisco Compatible Extensions Program for WLAN devices which provides tested compatibility with licensed Cisco infrastructure innovations.
Steps to Success
Steps to Success provides Cisco partners with a step-by-step resource for selling and delivering service and support throughout the network lifecycle.