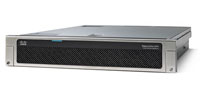 The appliance provides advanced threat prevention, blocks spam and viruses, and enables corporate email policy enforcement for medium-sized enterprises and satellite offices.
Together, these features provide high levels of corporate email security with innovative visibility and management tools.
Features
Built on the foundation of the IronPort AsyncOS operating system, the Cisco C370 Email Security Appliance delivers dial-tone availability, raising productivity and saving costs during peak traffic times such as damaging virus outbreaks or spam attacks.
Management Tools
Centralized Management
Email Security Manager
SNMP Enterprise MIB
Intuitive GUI
Spam Defense
Cisco Web Reputation Filters
Cisco Anti-Spam
Virus Defense
Cisco Outbreak Filters
Sophos Antivirus
McAfee Antivirus
Policy Enforcement
Content Filters
Data Loss Prevention
Cisco Email Encryption
Email Authentication
DKIM and DomainKeys Signing
Bounce Verification™