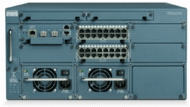 The Cisco CSS 11503 and Cisco CSS 11506 content services switches are both modular platforms with interchangeable modules. The CSS 11503 and CSS 11506 may also share memory, disks, and gigabit interface converters (GBICs). The Cisco CSS 11501 has fixed memory and does support the same disks and Small Form-Factor Pluggable GBICs as the other two models.
The Cisco CSS 11506 requires at least one switch control module (SCM) and may be configured with a second in standby mode. With the required SCM in one slot, the CSS 11506 has five additional slots supporting any combination of I/O, Secure Sockets Layer, or session accelerator modules. The Cisco CSS 11503 requires an SCM and accommodates any two of the other optional modules.
The Cisco CSS 11506 supports not only redundancy in switch control modules but also redundant power supplies and redundant switch modules (20 Gbps each). All SCMs support redundant disk drives.