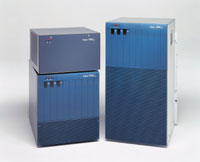 The rapid expansion of the Internet has fundamentally changed the way organizations conduct business. With this growth, enterprise customers are seeking higher bandwidth aggregation of WAN links to the Internet. Likewise the service provider community is faced with meeting the continued demand from consumers for Internet access. These factors are driving service provider and enterprise customers to solutions that optimize network density, bandwidth aggregation, availability, serviceability, and operational costs.
The high-performance Cisco 7500 Series Router remains the market leader due to its breadth of advanced support for LAN/WAN services, redundancy, reliability, and performance.
To learn more about the Cisco 7500 Series Router, please visit the Relevant Interfaces and Modules page.
A distributed architecture using Versatile Interface Processors (VIPs) is the key to the Cisco 7500's scalability. Each VIP has its own processor, which is capable of switching IP data packets and providing network services. This scenario allows the overall system performance of Cisco 7500 routers to scale up when they need to handle more high-speed network connections and more data packets. The RSP is still the master of the system. It runs routing protocols with other routers in the network to gather switching intelligence, which is then downloaded to the VIPs so that each can switch IP packets on its own.
In addition to performing packet switching, the VIPs can also provide a set of distributed IP network services, including access control, QoS, and traffic accounting (NetFlow). With the VIPs off-loading these IP switching and service functions from the RSP, the RSP can devote all its CPU cycles to handle other essential tasks. VIP distributed switching is the way to scale up system performance, and should be enabled where possible, to significantly reduce CPU utilization on the RSP.
Since its launch, the Cisco 7500 Series router has seen huge improvements in performance and its ability to scale. Alongside a widened number of interfaces (port adapters) for both LAN and WAN connectivity, the latest high end RSP8 CPU, and VIP4 module mean that the platform continues to deliver market leading performance.
Announcement
Cisco 7500 Series Routers: End of Sale Announcement
Cisco announces the end-of-sale/end-of-life for the Cisco 7500 Series Router effective December 15, 2007. Customers with active service contracts will continue to receive support from the Cisco Technical Assistance Center (TAC) until December 13, 2012.
Service provider customers are encouraged to migrate to the Cisco 12000 Series Router or the Cisco 7600 Series Router or 10000 Series Router depending on requirements.
Enterprise customers are encouraged to migrate to the Cisco 7600 Series Router, Cisco 7200 Series Router, or Cisco Catalyst 6500 Series Switches.
Enterprise WAN Migration Information
Cisco Services Aggregation Information