| | |
| --- | --- |
| Digital Media Systems | (Cisco) |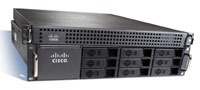 With a goal of flawless operation, we deliver all of Cisco's knowledge and expertise to help ensure that your solutions are highly available and operating to their fullest potential.

The Cisco RMS team takes advantage of a breadth and depth of knowledge and user experiences to monitor the DMS network around the clock in order to identify and resolve issues before they cause problems. As a result you can focus your IT resources on your core business, not on technical support and management. This reduces operating expenses and increases return on investment and customer satisfaction.


Services for Cisco Digital Media Systems include:
Around-the-clock monitoring and management of critical system functions to enhance the customer experience and ensure high availability
Proactive fault detection and incident management
Problem management and immediate electronic notification of faults
Optional activities for change and service level management
You retain ultimate control and flexibility of your environment, while we continuously monitor the availability and performance of DMS solutions including Enterprise TV, Desktop Video and Digital Signage.

Digital Media Systems RMS:


Enriches the experience of digital media systems solutions to drive utilization and supplement enterprise customers¿ internal capabilities
Assures a consistent, quality digital media experience
Achieves maximum value for customers as part of a comprehensive Cisco solution