| | |
| --- | --- |
| Cisco High-Touch Engineering Service | (Cisco) |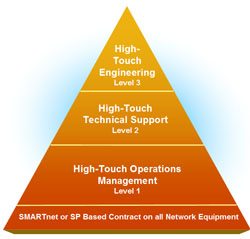 To successfully meet the needs of your customers and your business, it is essential that you have a stable and reliable network that consistently delivers the expected services. Delivering this degree of network performance, however, requires more than just addressing network issues as they arise. You must identify and isolate the source of chronic problems and take corrective action to prevent them from further degrading your essential business systems. Many organizations do not have the network operations resources to devote to in-depth network performance analyses or the in-house experience to conduct advanced root-cause investigations.

Cisco can help you address these issues by designating an expert Cisco engineer to focus on isolating and resolving chronic issues to improve the performance of your network. These Cisco engineers have an in-depth understanding of your unique network solutions and your business environment, as well as extensive experience analyzing the largest, most complex networks. With this level of support, you can expedite the resolution of complex, networkwide problems and improve the ongoing stability, reliability, and performance of your network.

Cisco High-Touch Engineering Service
The Cisco® High-Touch Engineering Service supplements the troubleshooting support that you receive from the Cisco High-Touch Technical Support Service by connecting you with Cisco senior-level networking experts when you face chronic or extensive infrastructure problems. The service, the highest level of personalized, high-touch Cisco technical support, provides access eight hours a day, five days a week to a designated Cisco engineer whose expertise matches your unique business processes and network infrastructure.

Your high-touch engineer develops a comprehensive knowledge about your technology applications and your network infrastructure to deliver personalized, network-level support. This can include in-depth network diagnostics and network analyses to isolate the root causes of chronic issues, as well as software referrals and other corrective recommendations in response to network incidents. As a result, you can keep your network prepared for greater operational reliability and performance and make sure that your network can quickly evolve with your business.