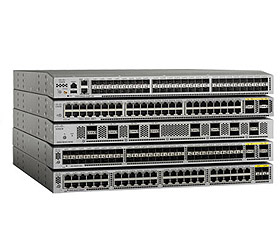 Cisco Nexus 3000 Series Switches extend Cisco Unified Fabric to the data center. Highly programmable, these dense fixed-port switches offer simplified management, enhanced network visibility, and advanced monitoring, all supported by a consistent NX-OS. This family includes the Nexus 3000, high-density Nexus 3100, and ultra-low-latency Nexus 3500 switches.
Features and Capabilities
Cisco Nexus 3000 switches offer 1/10 Gigabit Ethernet (GE) wire-speed Layer 2 and 3 switching for data center top-of-rack (ToR) deployments. These highly programmable, cost-effective switches deliver flexible port densities and low power consumption for data centers.
Cisco Nexus 3100 switches offer 1/10/40 GE high performance, mobility, high density, and rich programmability. These next-generation ToR switches are ideal for deployments where a range of densities at line-rate and connectivity speeds is required. They also help enable mobility of virtual workloads at scale.
Features of the Cisco Nexus 3100 switches include the following:
Operational Efficiency
Modular and resilient Cisco NX-OS
PowerOn Auto Provisioning (POAP)
Nexus Data Broker support for enhanced visibility and monitoring
Fast reboots
Enhanced Programmability
Cisco NX-API web service for simplified switch programmability
OpenFlow support for software-defined network deployments
Support for OpenStack, Chef, Puppet, Python, and Bash shell support
Improved Agility and Resiliency
Virtual extensible LAN (VXLAN)
VM traceability
Virtual PortChannel (vPC)
64-way equal-cost multipathing (ECMP)
Flexible Connectivity Options
Dynamic port breakout
Bidirectional optics
AC/DC power and forward and reverse airflow
Cisco Nexus 3500 Series Switches offer the lowest latency in the industry today with line-rate Layer 2 and 3 switching, taking advantage of the unique Cisco Algo Boost technology. These 1/10 GE ToR switches are ideal for deployments requiring ultra-low-latency switching such as high-frequency trading and high-performance computing. Benefits of the Nexus 3500 Series include the following:
Mission-Critical Features
Warp mode, Warp Switched Port Analyzer (SPAN)
Network Address Translation (NAT)
IEEE 1588 Precision Time Protocol (PTP)
Multicast support
Performance Visibility
Advanced buffer monitoring
Embedded Remote SPAN with PTP time-stamping
Easy Deployment and Configuration
Robust and proven software that is deployed in thousands of data centers worldwide
Simplified management with support for Python scripting, Cisco IOS Embedded Event Manager (EEM), and other XML manageability tools