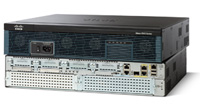 Cisco 2900 Series Integrated Services Routers (ISR) are designed to power the next phase of branch-office evolution, providing rich media collaboration and virtualization to the branch while reducing operating costs.
Services On-Demand: The Cisco 2900 Series Integrated Services Routers reduce initial capital outlays by decoupling the delivery of software from hardware on optional service modules. In addition, you receive a Universal IOS image capable of enabling all of Cisco's rich IOS features and allowing you to quickly deploy new services.
Investment Protection: The Cisco 2900 Series reduces deployment costs and increases flexibility. The platform also offers investment protection with support for many existing ISR modules.
Energy Efficiency: The Cisco 2900 architecture incorporates higher-efficiency power supplies with intelligent power management, with full Cisco EnergyWise support in the future.
High Performance: The Cisco 2900 Series offers significant performance improvements over previous-generation ISRs.
Overall, the Cisco 2900 Series offers unparalleled total cost of ownership savings and network agility through the intelligent integration of security, wireless, unified communications, and application services.
The XR 12000 Series also supports both fixed and modular line cards (LCs), including a flexible Multi-Service Blade (MSB), which provides integral, route-aware virtual firewall and video/voice Session Border Control (SBC), eliminating the need for external appliances. And the I-Flex design offers a new portfolio of modular interfaces featuring shared port adapters (SPAs) and SPA interface processors (SIPs).
Learn how the Cisco 12000 Series Router helps enable the rapid deployment of new services that can generate revenue and reduce expenses